Sheila Van Dyke
Ambassador of Laughter
Just Me
sheilavandyke@aol.com
Click on Music Icon below to listen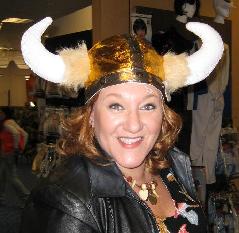 October 2008
She has performed in numerous stand up comedy shows, peformed overseas for our Military, comedy competitions and festivals, as well as plays, variety shows, improv shows and shows for Public Access cable, film and national television.

She has written for newspapers, magazines, songwriters and contests.



Raised on country sunshine, in the beautiful mountains of Virginia, Sheila dreamed of becoming a comedienne. She admires the work of Mae West, Red Skelton, Carol Burnette, Lucille Ball, Red Foxx, Jerry Lewis, Phyllis Diller, Flip Wilson, Minnie Pearl, Robin Williams, Steve Martin, Richard Prior, Dick & Jerry Van Dyke, Lilly Tomlin, Bill Cosby, Bob Hope, just to name a few.


Sheila's stand up routine is a continuous work of art. 2013 marks the 16th year in which Sheila has been performing stand up comedy. She jokes about advise her mamma gave her, growing up in Virginia, her employment history, her marriage to a Polish man, living up north-being a Yankabilly, children, facing life's challenges, the experiences that she has performing stand up in war torn countries and

precious

everyday life!

Her sassy southern satire is adult theme and may be tailored to suit any audience.

Sheila also writes custom material for current events, private functions and roasts.



She has received numerous Certificates of Appreciation as well as Military Coins of Excellence for her outstanding support of our Troops by raising their morale to the highest possible level.

Sheila is on a Mission of Laughter by taking her comedy to Veteran's Hospitals and Homes, as well as multiple military service minded organizations.

As a cancer survivor, Sheila takes great pride in performing for National Cancer Survivors Events, Race For The Cure Events and spending time with those under going treatment, as well as care givers.

Sheila can provide 20-67+ minutes of the comedy styling that she has developed over the years.

Sheila's boundless energy and material presented on stage has encouraged hundreds of audience members to live their lives with laughter!